Introducing the latest addition to ALD Service's Safety Commander software suite - the RAM Commander Enterprise Collaboration Edition, designed specifically for system of systems safety assessment and system safety assessment. This cutting-edge software has been trusted by leading aviation OEMs. Safety Commander includes unique features and capabilities tailored to integrated safety teams and engineers.
Safety Commander's fail-safe design makes it the only off-the-shelf software suitable for System of Systems Safety Assessment (SoSSA) across multiple industries, such as aerospace, railway, communication, defense, and energy.
Safety Commander's ability to perform safety analysis integration on the level of aircraft or system-of-systems sets it apart as a unique solution in the market.
Safety Commander's model-based design approach seamlessly translates into fault tree analysis, ensuring compliance with aircraft type certification requirements.
Safety Commander also aids in the definition, verification, and fulfillment of safety requirements for complex system-of-systems, while fully supporting ARP4761, ARP4754A, ISO 26262, MIL-STD-1629 and MIL-STD-882E standards.
By adopting Safety Commander, organizations gain full control over the safety assessment process from the earliest stages of design, ensuring development of a safe and certified product. Key stakeholders in the aircraft / system-of-systems (SoSSA) project, including OEMs, suppliers, and regulators, benefit from ongoing visibility of the safety assessment. Trust Safety Commander to provide the comprehensive system of systems safety assessment and system safety assessment solution your organization needs.
Safety Commander Modules

Safety Commander offers the ultimate solution for safety engineers and integrators seeking complete control over their product's safety through system-of-systems safety assessment and system safety assessment.
Our advanced software provides a range of features, including requirements traceability, progress visibility, calculation accuracy, and compliant deliverables. With our Fault Tree Analysis (FTA) module, you can easily navigate and manipulate complex Fault Trees typical for 21st Century systems, while enjoying an intuitive user experience. Unique Master Minimal Equipment List (MMEL) module provides indispensable analysis for aircraft competitiveness. Our suite of services includes a range of safety assessments such as Preliminary Aircraft Safety Assessment (PASA), Functional Hazard Assessment (AFHA/System of Systems/SFHA), PSSA, ASA, SSA, Common Mode Analysis (CMA), Hazard Tracking System (HTS), Failure Mode, Effects and Criticality Analysis (FMECA) with Testability Analysis, Hazard Analysis and Risk Assessment 26262 (HARA), Failure Modes Effects and Diagnostic Analysis 26262 (FMEDA), Zonal Safety Analysis (ZSA), and Particular Risks Analysis (PRA).
Trust Safety Commander for ingenious and accurate calculations, and to ensure compliance with industry standards for system of systems safety assessment and system safety assessment..
The final certification document holds crucial importance for safety-critical systems as it serves as a summary of the safety analysis outcomes and showcases that the system aligns with the necessary safety standards and regulations. Automating the generation of this document can notably decrease the certification time and effort while also enhancing the document's quality and uniformity. This automation is especially beneficial for system safety assessments and system of systems safety assessments
Features
Our innovative system provides a comprehensive solution for both System Safety Assessment and System of Systems Safety Assessment. Our Safety Commander Fault Tree Navigator resolves intersystem dependencies and ensures the real integration of entire aircraft or systems of systems safety assessment. Here are some of the features we offer:
• Real Integration of Entire Aircraft or System of Systems Safety Assessment
by innovative mechanism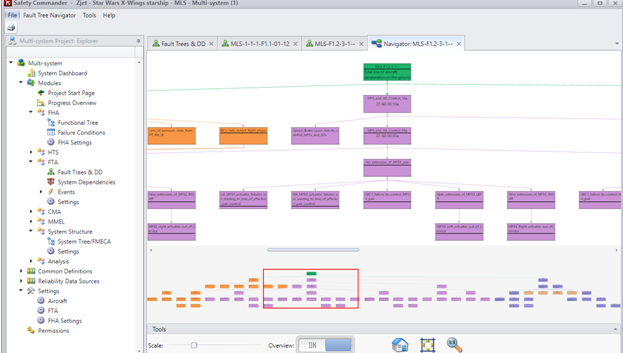 for resolving intersystem dependencies
• Easy construction, navigation, and calculation of huge FTAs with millions of cut-sets
• Average probability calculation in addition to the worst case calculation
• Loop Fault Trees resolution
• One-click recalculation when flight profile changes need to be adopted saves significant engineering effort.
• FHA, FTA, FMES, FMECA, HARA,FMEDA, CMA,CCMR, HTS all linked and consistent
• Built-in MMEL module
• Multi user / Multi site / Multi-vendor environment for visibility and control of the Safety Assessment progress
• Version / Revision Control for the history of A/C or System of Systems Safety Assessment throughout A/C design process
• Automatically generated Final Certification Document - linking all types of Safety Analyses
• Import of FTAs and FMES/FMECA from widely used software of previous generation: CAFTA, FAULT_TREE+, PTC, etc
• State-of-the-art user experience: FT Navigator, graphical system interdependencies, progress dashboards, in-built codification, Fault Trees comparison
Our system supports multiple database engines, including MS-SQL, MS-SQL Azure, Oracle, Access, Advantage, SQLAnywhere, DB2, MySQL, PostgresSQL, PervasivelSQL, SQLite, and VistaDB. Additionally, we offer customizable data tables, grids, and reports, built-in sort/group/filter/print/export/import of all tabular data in Excel/CSV/XML formats, and advanced role-based permissions management.
Our system also provides Active Directory-based (LDAP) user authentication and interface with IBM Doors, JAMA, CAMEO, and other platforms. Reports can be saved to HTML, MS Word, and MS Excel formats., In addition customizable MS Word templates can be used for reports generation.
Overall
, our
system of systems safety assessment
and
system safety assessment solution
offers a wide range of features to make safety assessment easier and more efficient.
Other ALD Software Tools

Safety Commander Platinum - Comprehensive software tool for Reliability and Maintainability Analysis and Prediction, Spare Parts Optimization, FMEA/FMECA, Testability, Fault Tree Analysis, Event Tree Analysis and Safety Assessment
D-LCC – Advanced tool for life cycle cost calculation, total ownership cost and sensitivity cost analysis